WATCH THIS FIRST!
Have you been looking for a unique and exciting way to invest and have some fun while doing it?
Many people aren't aware of how investing in overnight rental units works, and especially aren't familiar with Pigeon Forge and Gatlinburg's investment opportunities. From the video you can see there are many advantages and opportunities to make money in our small little area. Can you believe that every year we realize 10 to 15 million visitors?
That's an astonishing number!
We have a strong 8-month season, but the cities and businesses are working to increase it to 12 strong months by adding in new attractions and event centers – that attract people to come in for conferences, events, competitions, etc. during the cheaper season (our current slower season).
Additionally, we are within a 10.5-hour drive of a large portion of the population in the United States. This makes our area a great getaway for corporate events, family reunions, weddings (we're a top destination in the world and US for weddings), family vacations, and weekend getaways. Who doesn't like staying in a cabin in the woods, but being close to tons of activities? It's roughing it without the roughness!
Did you know this area is jam packed fun of entertainment!? I mean, REALLY JAM PACKED! We have Dollywood, Dolly's Splash Country, Dolly's Stampede, Anakeesta, Ober Gatlinburg, tons of Ripley attractions, dinner theaters out the wazoo, many putt putt golf attractions, a movie theater, and so much more! Oh, did I mention shopping? Shopping is one of the largest attractions for our area. There are so many things to do and is one of the number one reasons why people come here year over year.
Let's not forget the Great Smoky Mountains National park. This is the #1 visited national park and offers tons of outdoor activities such as hiking, sightseeing, relaxing, picnicking, and more. Don't miss the changes of the leaves in October. It is one of the most beautiful sights you will ever see!
Now that we've gotten the mumbo jumbo out of the way about the reason why people come here, let's discuss what this area has to offer as far as investing. Most of the overnight rentals in the area are owned by individuals such as yourself. Many people buy them to have a cabin in the Smokies and they put them on an overnight rental program with a local company. These companies manage all the day to day action and charge you a rental split for doing so. This enables you to stay worry free from all of the bookings, advertising, etc. that goes along with having a successful overnight rental cabin.
The financial analysis below is an example of one the cabins that I sold and the projections it had from a local rental company (these figures are estimated figures an are not guaranteed or promised).
Log Cabin
2 bed 2 bath
1368 SF
0.38 Acre
ROI = Cap Rate
Utilities Approximated
Equity Growth Rate Not Considered
Results for each cabin vary. These results are just an example of what a cabin could produce and are in no way guaranteed or promised. An analysis on each unit can be performed to judge its individual potential. At no time are any results guaranteed.
This financial analysis is based on a true log cabin that has 2 bedrooms, 2 bathrooms, is 1,368 square feet, sitting on 0.38 of an acre, and has a nice ridge line view of the mountains. It is located in a very popular overnight rental area located between Pigeon Forge and Gatlinburg. The listed sales price was $244,900. The typical amount financed on an investment property is 80% or in this case $195,920. Investment interest rates will vary depending on your credit score, but I used 6.7% to give us a higher rate than normal so we can get a worst-case scenario. The expenses are also all weighed on the heavier side to ensure we are not providing you with a projected return on investment (ROI) higher than what is achievable. The total monthly expenses as you can see are roughly $1,900 monthly.
This unit was conservatively projected to produce between $45,000 and $48,000 in gross revenue. The rental company takes 30% of that for their services rendered (this figure does not include any service calls, and miscellaneous fees the rental may assess). You can see that the low-end net revenue is $31,500 and the high end is $33,600. The figures below further breakdown what the expenses and revenue could be for a unit of this style and amenities. Looking at the low end and high-end ROI this unit should yield, approximately, a 4 to 5% cap rate (net revenue divided by purchase price).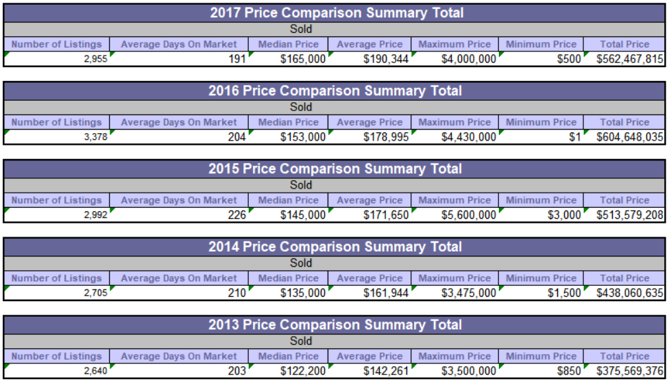 The table above is a snapshot of the sales activity for the area since 2013. As you can see we've realized substantial equity acceleration growth and the potential is still there. Since 2013, the Sevier County area has realized a minimum of 5.5% growth rate. This is a strong growth rate and we anticipate seeing positive trends in the years to come. The financial analysis provided above does not take any equity acceleration into account. It simply shows what a cabin could do on a yearly basis. If you decide to sell your unit, this equity growth rate shows how well we've performed in the previous years.
I know I've peaked your interest! All you have to do is contact me and we can get started on your new journey into overnight cabin rental ownership.